Send Inquiry
Air Cooled Electric Spindle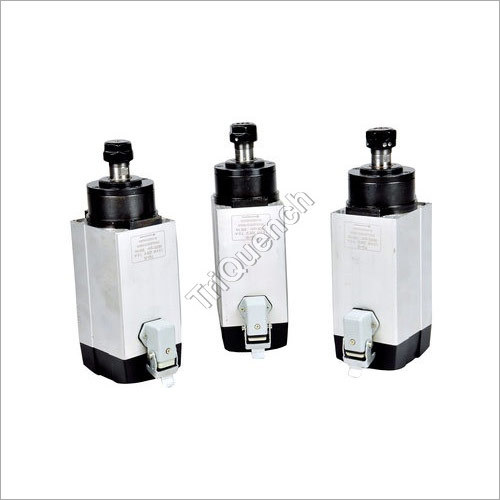 Product Details:
Supply Ability :

10 Piece Per Day
15300.00 - 19000.00 INR/Piece
Price And Quantity
1 Piece

15300.00 - 19000.00 INR/Piece
Product Description
We are rated as a major Manufacturer, Exporter, Importer, Supplier and Service Provider of massively applauded Air Cooled Electric Spindle. This is appreciated for it's seamless performance, dependability, longer working life, negligible maintenance cost and reasonable prices, this is hugely acclaimed and demanded among the prestigious customers. In addition to this, we manufacture Air Cooled Electric Spindle under the stern supervision of professionals using modern technology and tested materials, which are procured from reliable vendors. Hence, it is widely demanded among the masses.
Specifications:
Air Cooled Spindle Square Body
| Sr | Spindle Type | Speed rpm | kw | Joint of Nose | Price |
| --- | --- | --- | --- | --- | --- |
| 1 | TQI 0.8F Square | 20000 | 0.8 | ER11 | 15300/- |
| 2 | TQI 1.5F Square | 18000 | 1.5 | ER20 | 24300/- |
| 3 | TQI - 2.2F Square | 18000 | 3.5 | ER25 | 26100/- |
| 4 | TQI 3.5F Square | 18000 | 3.5 | ER25 | 30600/- |
| 5 | TQI 4.5F Square | 18000 | 4.5 | ER32 | 36900/- |
| 6 | TQI 6.0F Square | 18000 | 6.0 | ER32 | 34100/- |
| 7 | TQI 7.5F Square | 18000 | 7.5 | ER32 | 52200/- |
| 8 | TQI 7.5F Square | 18000 | 7.5 | ER40 | 92000/- |
| | | | | | | | |
| --- | --- | --- | --- | --- | --- | --- | --- |
| Product Title | Power (kW) | Speed (rpm) | Diameter (mm) | Electrical Specifications | Collet | Cooling | Application |
| TQI-15F | 1.5 | 18000 | Square Body | 220V, 6.5A, 300Hz, 3-phase AC | ER20 | Air | Wood Carving Spindle (Air Cooled) |
| TQI-22F | 2.2 | 18000 | Square Body | 220V, 7.8A, 300Hz, 3-phase AC | ER20 | Air | Wood Carving Spindle (Air Cooled) |
| TQI-35F | 3.5 | 18000 | Square Body | 380V, 7A, 300Hz, 3-phase AC | ER25 | Air | Wood Carving Spindle (Air Cooled) |
| TQI-45F | 4.5 | 18000 | Square Body | 380V, 9A, 300Hz, 3-phase AC | ER32 | Air | Wood Carving Spindle (Air Cooled) |
| TQI-60F | 6.0 | 18000 | Square Body | 380V, 12A, 300Hz, 3-phase AC | ER32 | Air | Wood Carving Spindle (Air Cooled) |
| | | | | | | | |
| TQI-08FR | 0.8 | 12000-24000 | 65 | 220V, 3A, 400Hz, 3-phase AC | ER11 | Air | Wood Carving Spindle (Air Cooled) |
| TQI-15FR | 1.5 | 12000-24000 | 65 | 220V, 5.6A, 400Hz, 3-phase AC | ER11 | Air | Wood Carving Spindle (Air Cooled) |
| TQI-15FR | 1.5 | 12000-24000 | 80 | 220V, 5.6A, 400Hz, 3-phase AC | ER11 | Air | Wood Carving Spindle (Air Cooled) |
| TQI-22FR | 2.2 | 12000-24000 | 80 | 220V, 8A, 400Hz, 3-phase AC | ER20 | Air | Wood Carving Spindle (Air Cooled) |
Enter Buying Requirement Details