2.2 kW Water Cooled Spindle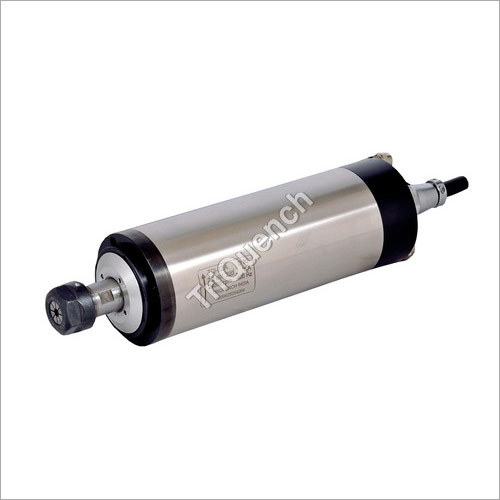 Product Details:
Product Type

Spindle Motor

Frequency (MHz)

400 Hz Hertz (HZ)

Rated Voltage

220 V Volt (V)

Dimension(L*W*H)

270 mm length Millimeter (mm)

Weight

5 Kilograms (kg)

Warranty

6 month warranty on winding
Product Specifications
220 V Volt (V)

6 month warranty on winding

270 mm length Millimeter (mm)

5 Kilograms (kg)

400 Hz Hertz (HZ)

Spindle Motor
Trade Information
1-3 Working Days Days

Yes

After the Manufacturing of Spindle, and Before Shipment, We Cover Tightly with Spindle Sized Standard Thermocol Box. After that, We Tighten with Strong Strips Across The Box to not Harm. To Give More Security at All Level, We Covered With 3 Layers of Bubble Sheets. With That, We Surround With Rock Solid Plastic Sheets Which Protects Spindles at Any Condition. So that We are able to deliver our Spindles more safely. Lastly, We Finish It by Labeling of Our Brand Strips to Recognize Our Products to Buyers.
Product Description
Our motorized spindles are designed and manufactured to meet the most demanding technical requirements. All components guarantee high levels of reliability and have been designed to enable maintenance work to be carried out quickly and efficiently. Optional capabilities include drives and cooling units.
Our Motorized spindles are designed for all-purpose applications, such as cutting, dressing, drilling, electro-erosion, lathing, milling, turning, and more. To guarantee the precision, reliability, durability, and efficiency over time, they are equipped with high-tech components selected and tested with the greatest care.
| Sr | Spindle Type | Speed rpm | kw | Frequency | Joint of Nose | Price |
| --- | --- | --- | --- | --- | --- | --- |
| 1 | TQI-08 | 6000-24000 | 0.8 | 400Hz | ER8 | 10800/- |
| 2 | TQI-15 | 6000-24000 | 1.5 | 400Hz | ER11 | 14400/- |
| 3 | TQI-22/220 V | 6000-24000 | 2.2 | 400Hz | ER20 | 16200/- |
| 4 | TQI-22/380 V | 6000-24000 | 2.2 | 400Hz | ER20 | 16200/- |
| 5 | TQI-22 (4 Pole) | 6000-24000 | 2.2 | 800Hz | ER20 | 44100/- |
| 6 | TQI-30/220 V | 6000-24000 | 3.0 | 400Hz | ER20 | 22500/- |
| 7 | TQI-30/380 V | 6000-24000 | 7.5 | 400Hz | ER20 | 22500/- |
| 8 | TQI-30 For Stone | 6000-24000 | 3.0 | 400Hz | ER20 | 36000/- |
| 9 | TQI-45 | 6000-24000 | 4.5 | 400Hz | ER25 | 38700/- |
| 10 | TQI – 55 | 6000-24000 | 5.5 | 400Hz | ER25 | 45000/- |
| 11 | TQI – 65 | 18000 | 6.5 | 300Hz | ER32 | 55800/- |
TRIQUENCH INDIA PRIVATE LIMITED
Other Products in 'Water Cooled Spindles' category